Get to know a blogger with some fun questions! I found it on
the multi-purpose life
. We should all play along!
1.What was your favorite meal growing up?
My dad has his "Famous Macaroni and Cheese" which is baked with a creamy cheese sauce and more melty cheese on top. I still beg him to cook this while I'm in town! hehe I can't get mine to be QUITE right!
2. What's your favorite month?
Definitely October, but this month has been lettin' me down. I'm done with 70 degree temperatures! It's fall, People!
3. What store is most represented in your wardrobe?
There was a day when I could answer Ann Taylor Loft but lately they've gotten all trendy on me instead of more classic. Now, since being a full-time student, I'd probably have to say Goodwill
4. How many times do you go to the movie theater each month/year?
It hasn't been often, these days! (again with the student budget excuse. hehe) Maybe 3 times or so and usually for a great big-budget action film! Those are the ones that are super fun to see on the big screen!
5. Fill in the blank-I'm looking forward to an ALL hand-made Christmas this year! It's so exciting! I'm thinking I'll even sew little giftbags for everything!
How about you guys? Care to play along? :)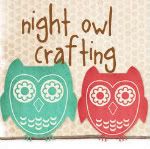 Check out
Night Owl Crafting
to read some other fun answers, too!